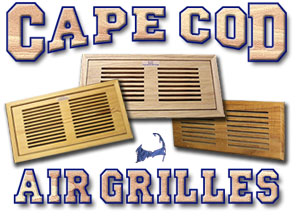 Quote Request
Quote Requests will be answered within 24 hours. To ensure an accurate quote,
please be sure to answer all of the requested information below. Please provide
your name and daytime telephone number (in case we have a question).
Your email address is required in order to receive the online quote request.
We value your privacy and will never rent or sell your email address to any 3rd party
and will strictly use it for Quote Request purposes only.
Surface Mounts | Flush Mounts | Return Air Grilles | Return Air Eggcrate Grilles | Custom Grilles | High Velocity Covers
Cape Cod Air Grilles
14 Atlantic Avenue
So. Yarmouth, MA 02664
Local: 508-394-8700
Toll Free: 800-547-2705
Fax: 508-394-7330